Technology has literally changed how we manipulate and manage our data. Apart from using external hard disks, USB pen drives and flash sticks, you can now store, share and manage your files and documents online using secure virtual servers owned by file hosting providers. A good example of a platform that you should consider for your file hosting needs is Filejoker.net.
Introduction to Filejoker.net
Filejoker.net is an online platform that provides exceptional cloud storage services to internet users. Essentially, this platform provides web users with tools they can use to store, share, manage and distribute their files securely and conveniently.
Interestingly, you do not even have to register to access these tools. However, it is advisable that you sign up and upgrade to a Filejoker premium account to enjoy unrestricted access.
What is more amazing is that one can store and distribute any type of file on this platform, ranging from photos to audio, so long as these files do not infringe on copyright and patent laws.
Background Information
Filejoker.net positions itself as one of the most reliable and trustworthy cloud storage platforms available today. The company has been in active business since 2013, providing customers with high quality file hosting services.
Even though the owners of Filejoker seem to be located in Bahamas, the company's servers and data centers are situated in several locations around the globe, including the United States. This makes it easier for registered users to access their files seamlessly with reduced latency.

Getting Started with Filejoker
Just like other cloud storage services, signing up with Filejoker is free of charge. Moreover, the enrollment process is equally easy, given that you only need to provide your email address and create a password to become a registered member. As you are you verify your email address, you may start uploading files right away.
Basic Operation
Once you enter the domain, you will encounter a distinctively designed website that is user-friendly and easily navigable. Filejoker makes it very easy for you to upload and download files even if you have limited computing skills.
As with other file hosting platforms, you may utilize three different methods to upload your files to Filejoker. These methods include:
FTP upload
File Transfer Protocol or FTP is the most preferred method of transferring files given that it is fast and ideal for heavy data. However, you must download and install an FTP client on your computer to use this method.
Remote upload
Remote upload allows you to transfer files using URL links from another computer other than your localhost. This is ideal if your local connection is very slow.
Web upload
Web or browser upload is the simplest method of transferring files. Using this method, you only need to drag and drop your files to the Filejoker site using your browser. However, web upload is not ideal for transferring large, heavy files.
Is Filejoker Safe?
Your privacy and the security of your files and documents are of utmost importance to Filejoker. Considering this, the company has enforced various security measures to ensure that your account is safe.
Firstly, Filejoker uses SSL data encryption to secure and protect your files and personal data during the transfer process. Additionally, the company encourages registered users to use strong passwords to secure their accounts.

Upgrading to Filejoker Premium
As mentioned before, Filejoker is free to join. However, free membership has so many restrictions on download speeds, file sizes and storage space. Moreover, you have to go through annoying processes before you can download any file. For instance, guest users have to wait up to 2 minutes before you they can download any file.
As if that is not enough, it is obligatory for free members to enter Captcha codes to activate the download process. Considering this, it is only logical that you upgrade to a Filejoker premium account. With a premium account, the options and possibilities are almost endless.
The process of upgrading to a premium account is simple and straightforward. You simply have to click on the Premium link at the top of Filejoker's main page. If you already have an account, it is advisable that you log in first to make it easier for you to upgrade to Filejoker premium.
| | | | |
| --- | --- | --- | --- |
| Download option: | Free User | Premium User | Premium Vip User |
| Download speed: | Free User | Maximum | Maximum |
| Maximum number of simultaneous downloads: | Slow | Unlimited | Unlimited |
| Direct download link: | 1 | Yes | Yes |
| No downloads delay: | No | No waiting time | No waiting time |
| No downloads captcha: | 90 seconds | Yes | Yes |
| Support for resumed downloads: | No | Yes | Yes |
| Support for download managers: | No | Yes | Yes |
| No Advertisements: | No | Yes | Yes |
| Maximum file size for download: | 5 GB | Unlimited | Unlimited |
| Storage Volume | 50 GB | Unlimited | Unlimited |
| Download volume | little | 30 GB of traffic in any 5 days | 100 GB of traffic in any 5 days |
Filejoker Premium Features
Filejoker premium offers so many options and features to meet your specific cloud storage needs. Some of the most popular features include:
Unlimited download speed
With Filejoker premium, you can download and transfer files at amazing speeds depending on your internet connectivity.

Simultaneous downloads
Filejoker premium allows users to download multiple files concurrently, saving on time
Unlimited storage space
While free registered users are eligible to 50GB of storage space, premium members enjoy unlimited web space
No waiting time before downloads
With Filejoker premium, you do not have to wait or enter Captcha codes to download files. The download process is instant.
Free smartphone app
Premium members gain access to the Filejoker smartphone app that allows you to manage your account more efficiently while on the move
Download resume
As a premium user, you can pause and resume your downloads at anytime without having to restart the process afresh
Download manager support
Filejoker premium supports other download managers such as Download Accelerator. This allows for faster, uninterrupted downloads.
Rates and Payment Options
Filejoker Premium is surprisingly affordable compared to other similar platforms. The least expensive plan costs only $14.95, and it is valid for 30 days. Below is a breakdown of Filejoker premium rates
| | | | | |
| --- | --- | --- | --- | --- |
| | 30 days | 90 days | 180 days | 365 days |
| PREMIUM | $14.95 | $34.95 | $59.95 | $89.95 |
| PREMIUM Vip | $22.95 | $49.95 | $74.95 | $109.95 |
Accepted payment options include major credit cards such as Visa and MasterCard. You may also pay for Filejoker premium via bank transfer, PayPal, WebMoney, Paysafe and Bitcoin, among many others.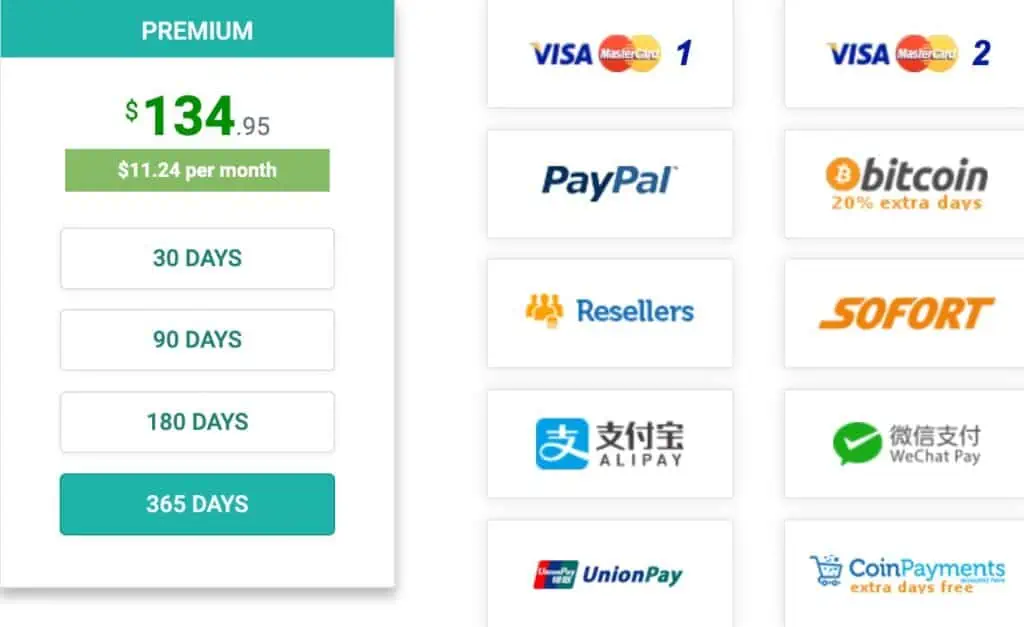 Customer Support
Filejoker has an excellent support team dedicated to addressing the needs of the customers. You may contact the support team via email or through the "Contact Us" page.
Conclusion
It is truly a reliable file hosting provider worth checking out. Their services are superb, not to mention the reasonable price plans. Moreover, they have a smartphone app that allows filejoker.net premium members unrestricted access to endless options.